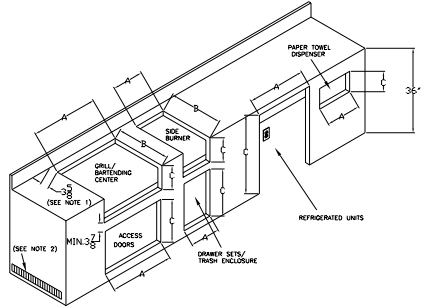 Printer friendly version (pdf)
| | | | | |
| --- | --- | --- | --- | --- |
| | | Width | Depth | Height |
| Model # | Product | A | B | C |
| IRBQ-15 | 15" Grill | 14 1/2" | 16 3/4" | 9 5/8" |
| IRBQ-21 | 21" Grill | 20" | 16 1/4" | 7 7/8" |
| IRBQ-21XL | 21XL Grill | 20" | 21" | 7 7/8" |
| AGBQ-27 | 27" Grill | 26" | 16 1/4" | 8 7/8" |
| AG/IRBQ-27XL | 27XL Grill | 26" | 21" | 8 7/8" |
| AG/IRBQ-30 | 30" Grill | 28 1/2" | 23" | 10 1/4" |
| AG/IRBQ-36 | 36" Grill | 34 1/2" | 23" | 10 1/4" |
| AG/IRBQ-42 | 42" Grill | 40 1/2" | 23" | 10 1/4" |
| AGBQ-56 | 56" Grill | 54 1/2" | 23" | 10 1/4" |
| IRIJ-21 | 21" Insulated Jacket | 25 3/8" | 17 11/16" | 9" |
| IRIJ-21XL | 21XL Insulated Jacket | 25 3/8" | 22 9/16" | 9" |
| IRIJ-27 | 27" Insulated Jacket | 31 3/8" | 17 11/16" | 10" |
| IRIJ-27XL | 27XL Insulated Jacket | 31 3/8" | 22 9/16" | 10" |
| IRIJ-30 | 30" Insulated Jacket | 34 1/2" | 24 1/2" | 11 1/4" |
| IRIJ-36 | 36" Insulated Jacket | 40 1/2" | 24 1/2" | 11 1/4" |
| IRIJ-42 | 42" Insulated Jacket | 46 1/2" | 24 1/2" | 11 1/4" |
| IRIJ-56 | 56" Insulated Jacket | 60 1/2" | 24 1/2" | 11 1/4" |
| IRDT-24 | Bartending Center | 23 1/4" | 23" | 10 1/4" |
| IRDT-30 | Bartending Center | 28 1/2" | 23" | 10 1/4" |
| SSB-14 | Single Side Burner | 13 1/4" | 13 1/4" | 9" |
| IRSB-14 | Dual Side Burner | 13 1/4" | 23" | 10 1/4" |
| SPR7-OS | Refrigerator | 24 1/2" | 26" | 34" |
| SP6DS-2D-OS | 2 Drawer Refrigerator | 24 1/2" | 26" | 34" |
| SP6DS-3D-OS | 3 Drawer Refrigerator | 24 1/2" | 26" | 34" |
| SBC-490-OS | Refrigerated Beer Cooler | 24 1/2" | 26" | 35" |
| FMD/IRAD-21 | 21" Door | 18 1/4" | – | 18 1/4" |
| FMD/IRAD-30 | 30" Doors | 27 1/4" | – | 18 1/4" |
| FMD/IRAD-36 | 36" Doors | 33 1/4" | – | 18 1/4" |
| FMD/IRAD-42 | 42" Doors | 39 1/4" | – | 18 1/4" |
| UD26S | Single Drawer – Shallow | 27 1/8" | 15" | 3 11/16" |
| UD26D | Single Drawer – Deep | 27 1/8" | 23" | 3 11/16" |
| 2D14S | 2 Drawer Narrow – Shallow | 12 7/8" | 15" | 20 1/16" |
| 2D14D | 2 Drawer Narrow – Deep | 12 7/8" | 23" | 20 1/16" |
| 2D21S | 2 Drawer Wide – Shallow | 19 7/8" | 15" | 20 1/16" |
| 2D21D | 2 Drawer Wide – Deep | 19 7/8" | 23" | 20 1/16" |
| 3D14S | 3 Drawer Narrow – Shallow | 12 7/8" | 15" | 20 1/16" |
| 3D14D | 3 Drawer Narrow – Deep | 12 7/8" | 23" | 20 1/16" |
| 3D21S | 3 Drawer Wide – Shallow | 19 7/8" | 15" | 20 1/16" |
| 3D21D | 3 Drawer Wide – Deep | 19 7/8" | 23" | 20 1/16" |
| PTH1 | Paper Towel Holder | 14 7/8" | 8" | 8 3/4" |
| TRE1 | Trash Enclosure | 12 7/8" | 19" | 20 1/16" |
SPECIAL NOTE: Grill installation into combustible enclosure requires insulated jacket. Order part #SOL-IRIJ-XX, where "XX" is the size of the grill in inches.
Note 1: Min. 3 5/8" clearance required between edge of cutout and inside back wall of enclosure for gas regulator.
Note 2: Ventilation of island should be in accordance with local codes or accepted practice.
NATURAL GAS SUPPLY NOTE: A standard 3/8" ID flexible natural gas supply hose has a maximum capacity of 60,000 BTUs and should be used with 27" and 30" grills only. A 1/2" ID natural gas supply hose is required for larger models, or for 30" grills with a side burner. The proper hose is available from Solaire, order part #SOL-12HOSE12.
Detail for Flush Mounting
If the countertop of your island overhangs the cabinet face, the countertop must be notched to accommodate the control panel or front of the Solaire equipment.